In-House vs Outsourced Accounting Services: What's the Best Strategy for your Tech Startup?
Are you a Tech entrepreneur and searching for an accountant to manage your business finances?
You must be in a dilemma about whether to hire an In-House accountant or Outsource your business accounting.
Accounting is a critical function in any Tech Startup. It's difficult to make business decisions if your books and financial documents aren't clear and accurate. Hence, Outsourcing vs In-house accounting management is a concern for many Tech entrepreneurs today.
Tech Business owners are eager to expand their business, but with expansion comes growing pains—especially regarding accounting. There are a few things to consider depending on the size and complexity of your business.
Outsourcing can be a great way for a Tech startup to leverage experienced and skilled talent. You can avoid long-term commitments and robust compensation packages by only paying for the work you need.
Your company has complete control over your finances when you hire an In-House accountant. You can make better business decisions by monitoring your finances regularly. But, it will increase the cost by including specific staff in the company, paying salaries, hiring and training, and much more.
Why do you need outsourced accounting?
You hire an outside accounting firm or individual to handle your books and financial statements when you outsource your accounting. Outsourcing is an effective accounting solution for Tech startups for the following reasons:
Cost
Tech Startups may not have enough bookkeeping or accounting work for In-house accountants. You can save money by outsourcing accounting services and only paying for the work you need. You will only need to provide access to your financial records to the accounting firm.
Hiring and training in-house accountants can be expensive as you will need to pay their salaries, and also provide training.
Time Management
Tech Startups may get free time to focus on other aspects of the business if they outsource their accounting as you won't need to worry about reconciling your financial accounts.
Business owners need to devote their time if they have an in-house accounting department. You will need to train employees, review their work, and also handle any accounting issues.
Expert advice
Outsourcing gives you access to hire an experienced & skilled accountant without straining your budget.  Work can be completed by experts in their respective fields without compromising the quality of work.
Tech entrepreneurs may not get the same level of expertise when they maintain an in-house accounting department.
Credible Financial Statements for Investors
An experienced accounting firm can make sure your books and your financial records are up-to-date and accurate while raising capital for your Tech Startup. An experienced accounting firm can provide you with valuable consultation and advice through the fundraising process. The accounting firm also provides business valuation services so you will know what your company is worth.
In-house accountants may not be able to provide that level of expertise in business valuation.
Confidentiality
Accounting firms are required to maintain the confidentiality of their clients. Outsourcing your accounting makes you worry-free and confident that your information will be kept confidential.
 If you have an in-house accounting department, there is a risk that your information could be leaked if your employees are not adequately trained in data security.
Compliances
Tech startups can be confident that their accounting firm will be up-to-date on all compliance regulations when they outsource their accounting. Accounting firms must stay up-to-date on all compliance regulations for their clients.
When you maintain an in-house accounting department, you need to ensure that your employees are appropriately trained to comply with regulations.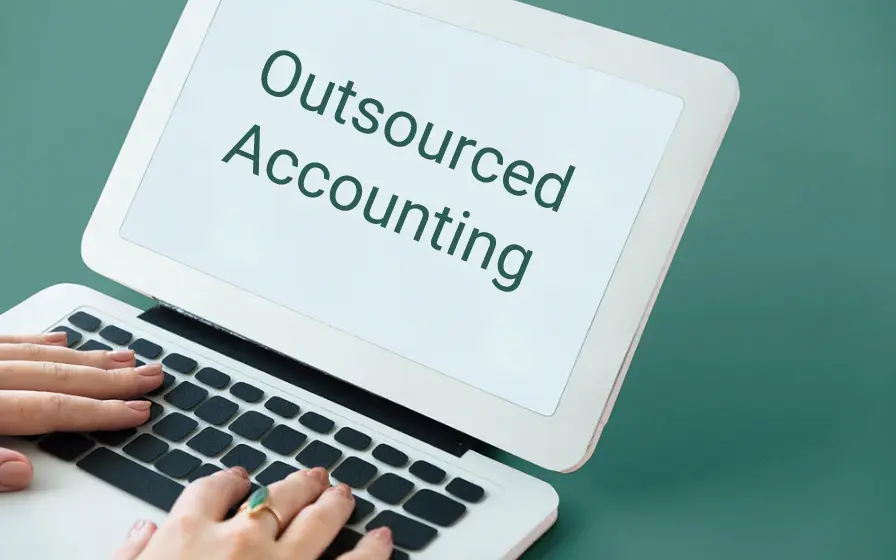 Why go with an In-House Accounting Solution?
An In- House accounting refers to managing your books of accounts and reconciling your financial statements internally with your staff.
An outsourced relationship with an accounting company is the right solution for Tech startups. If you're struggling to find an accounting firm that fully understands your needs, then you may need to hire a bookkeeper to manage in-house.
In-house accounting can be accurate and effective. However, your staff can skip some crucial data if they are inexperienced. You can trust that your books of accounts will be current on all compliance standards if you outsource your accounting. Hence, the margin for error is less.
Tech Startups will improve the efficiency of their organization if they outsource their accounting. You will be able to generate reports quickly when your books of accounts are up-to-date. Thus, you will be able to make crucial financial decisions rapidly based on data-driven insights.
If you're considering outsourcing your accounting needs, your search for a reliable partner ends here. Ease Up can help you. We provide outsourced accounting services to Tech companies and Tech startups in India. We have served various Tech companies and helped them improve their accounting and bookkeeping tasks.